Back
STANDING DESK SOLUTIONS – ERGOWORKS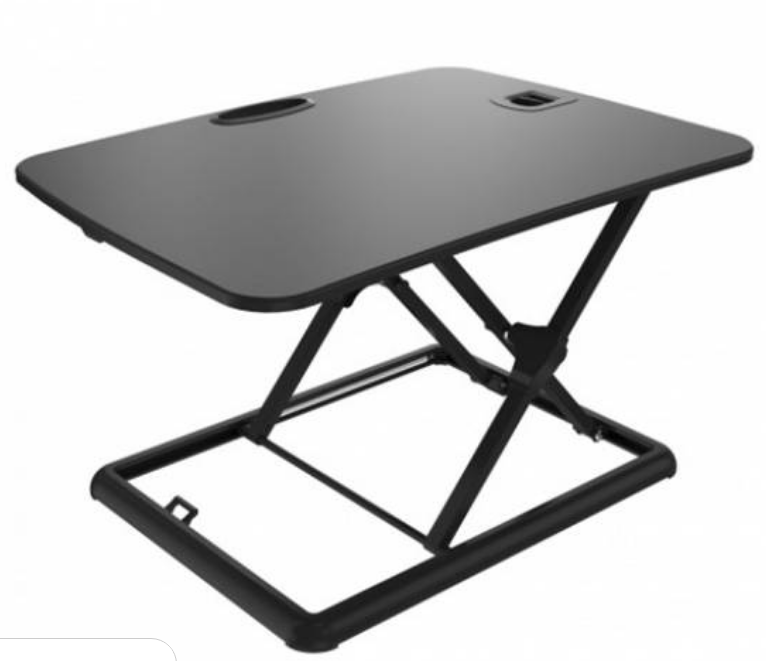 /
Posted on
/
Ergonomics
Estimated reading time:
As the months of remote working continue, we hear many clients ask about standing desk solutions while working from home. Particularly those who have used a standing desk in the office and enjoy the option to stand at intervals throughout the day. There are some great and convenient options available.
This week we take a close look at some of the standing desk converters and adjustable standing options available from Ergoworks.
ERGOWORKS - ULTRA-SLIM SIT STAND DESK CONVERTER FOR LAPTOP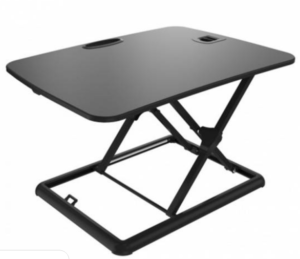 Features: This converter is marketed for laptop use. At 660mm (W) x 470mm (D) the available surface space is a definite factor in deciding if this piece of equipment would work for you. The height adjusts from 40mm to 400mm and the load capacity is 8kg. The design is compact and easily adjusted to the five available heights. The converter is easily portable. This converter is available in three colors and comes with an easy to navigate user guide.
Price point: Currently on sale from Ergoworks for $269 (U.P$369)
Overall opinion: This is a practical solution for someone who needs an easy fix to allow for standing while at work. When using a laptop it is always best to use this with an external mouse, keyboard, and laptop stand. Depending on the size of your equipment it could be possible to achieve this setup with this converter. If your equipment is larger, this may not be a good option for you.
Remember that it depends on what you require the converter for. If you are someone who attends many video calls, the converter could work well. For example, when you need to have your laptop camera on but don't need to use the keyboard and mouse as you stand for short durations.
ERGOWORKS - ELECTRIC SIT STAND DESK CONVERTER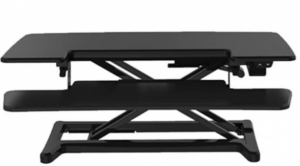 Features: The electric sit stand desk converter is quick and easy to use. Adjust it by simply pressing a button. A great feature here is that the desk has a separate keyboard tray (880mm x 308mm) and a work surface (880mm x 415mm). From an ergonomic perspective, this allows for elbow height typing posture and screen placement at eye level. This converter is available in black or white and has a load capacity of 25kg. The height range is 125 - 505mm. This electric converter comes in a user guide.
Price Point: Available from Ergoworks for $699 (U.P. $1099)
Overall opinion: Although a more expensive option, this converter does have space for more equipment. The two-tier keyboard tray/desk surface allows for a good ergonomic setup. The quick and easy up/down function means that it is easy for the user to switch between sitting and standing regularly with minimal effort. Take into consideration the desk that this converter will be placed on - a larger size desk is required.
IMPACT - SIT STAND TILT AND FOLDABLE DESK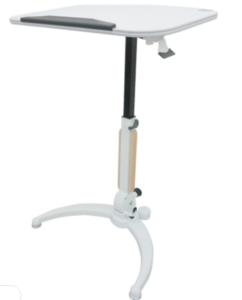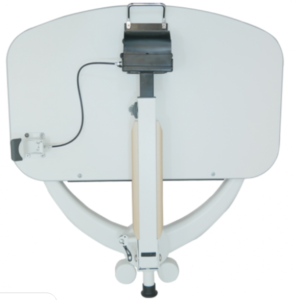 Features: This height adjustable and foldable desk is a versatile option for those who are working from home but are limited by space. The desktop tilt angle feature means that this desk would be a good option for reading or writing on also. The desk is 81cm x 52cm and height adjustable from 75cm to 109cm. The desk is entirely collapsible and stored with minimal space required. The caster wheels mean that it is easily transported. This desk comes with a manufacturer's warranty.
Price point: Available from Ergoworks for $599 (U.P. $999)
Overall opinion: This desk is a great option for those who are limited on space. It is an easy solution that gives you the flexibility to sit or stand as you work. Consider the size of this desk; it is unlikely to be suitable for multiple screens, etc. The height is easily adjusted here with minimal effort.
DON'T FORGET TO MOVE!
Remember, when looking for a standing desk solution; having an adjustable desk or desk converter does not automatically mean you will have better posture in sitting or standing. Our work routine and habits are also important. If you notice that you are leaning to one side or feeling any discomfort while standing, it's time to move around or sit down. Change your position very frequently!
**This is not a paid or sponsored post**
ERGONOMICS SUPPORT FOR YOUR COMPANY
Fit For Work provide a range of ergonomics services that are suitable for those working from home/remotely or those who are office-based. To learn more about office setup and good ergonomics principles, you can reach out to Fit for Work to talk about how an ergonomic programme within your office can increase productivity, increase staff satisfaction, improve staff retention and reduce sick leave.
Articles you might also like
Follow Us